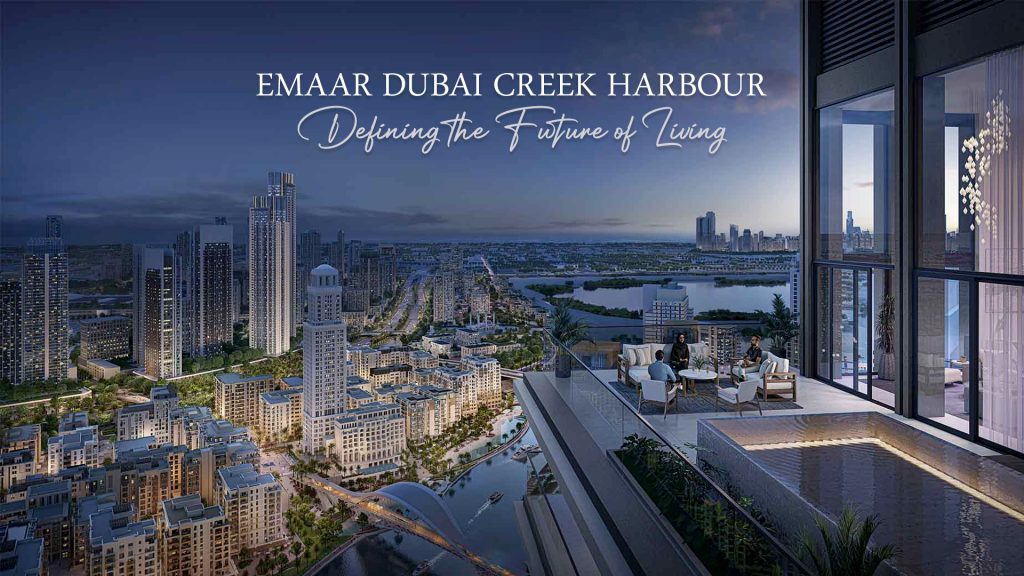 Emaar Creek Harbour stands as a testament to Dubai's visionary architectural prowess and innovative urban planning. Spanning a vast expanse along the Dubai Creek, this monumental project by Emaar Properties promises a future cityscape that seamlessly blends luxury, commerce, and culture. At the heart of this development lies a meticulously crafted fusion of residential marvels, commercial spaces, vibrant retail centers, and entertainment destinations. The 550-hectare expanse encompasses a meticulously designed landscape, including key districts such as the Island District, Sanctuary District, Retail District, and Urban Core District. Each district boasts its unique character, catering to diverse lifestyles.
The jewel in the crown is the Retail District, an 820,000 sq. m. shopping haven housing a plethora of international brands, dining establishments, and entertainment venues. Alongside, the Island District offers panoramic waterfront views, creating an oasis of luxury living with hotels and resorts that redefine opulence. Emaar Dubai Creek Harbour goes beyond the conventional, dedicating 66,000 sq. m. to cultural spaces, fostering creativity and heritage through museums and theaters. In addition, a significant 7.3 million sq. m. is allocated for residential spaces, where architectural brilliance meets comfort, providing a range of housing options.
Creek Harbour Master Plan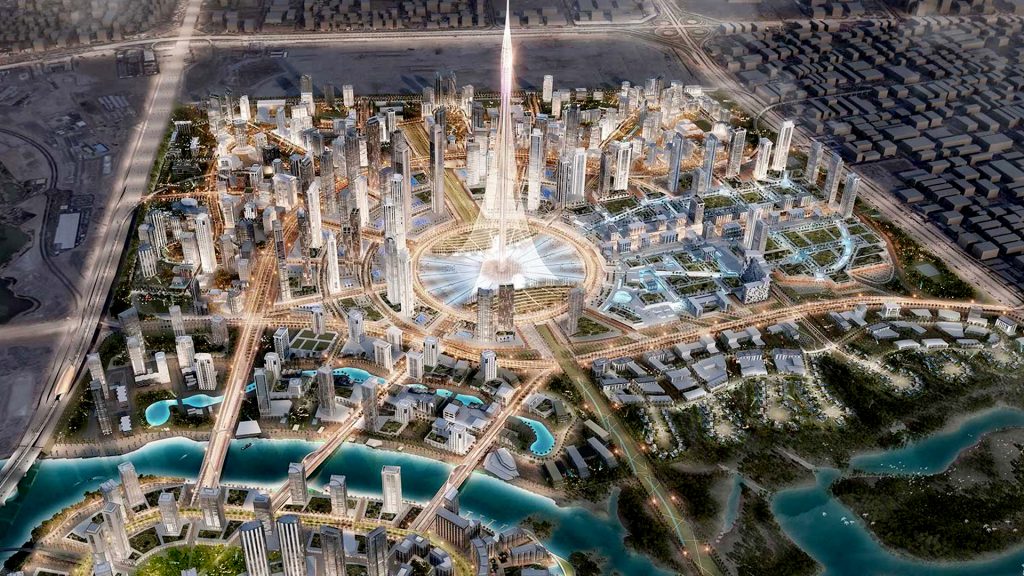 The project's master plan is a visionary blueprint that redefines urban living in the heart of Dubai. Encompassing 550 hectares along the scenic project, this meticulously crafted plan harmoniously blends residential, commercial, retail, and cultural spaces. The development's key districts, including the Island District, Sanctuary District, Retail District, and Urban Core District, are thoughtfully designed to cater to diverse lifestyles and needs.
The master plan emphasizes the luxury of waterfront living, offering a range of exquisite apartments and villas, each exuding elegance and comfort. It envisions a dynamic future city where innovation and design converge, creating an unparalleled Riviera-style lifestyle for its residents.
With an emphasis on sustainability, green spaces, and smart technology integration, the master plan ensures a holistic and eco-friendly environment. Furthermore, cultural spaces, museums, theaters, and a bustling retail hub provide a vibrant atmosphere for both residents and visitors. The project's master plan is not just a development; it's a testament to Dubai's commitment to shaping a sophisticated, integrated, and sustainable urban landscape.
Creek Harbour Rental Apartments
The project offers a diverse range of apartments for rent, catering to various needs and preferences of residents. Prospective tenants can choose from several luxurious options, each promising a comfortable and sophisticated living experience:
Creekside 18: This development provides a selection of 1-bedroom, 2-bedroom, and 3-bedroom apartments. Prices range from AED 73,000 for 1-bedroom, AED 102,000 for 2-bedroom, to AED 178,000 for 3-bedroom units. Residents here enjoy a host of amenities, including dedicated play areas, innovative recreational spaces, and convenient retail centers.
Harbour Views: With 1-bedroom units starting at AED 71,000, 2-bedroom at AED 108,000, and 3-bedroom at AED 167,000, Harbour Views offers stylish living spaces with stunning views. Families will appreciate the presence of daycare centers, pools for kids, and lush gardens, creating a family-friendly environment.
The Cove: This development offers 1-bedroom apartments at AED 73,000, 2-bedroom at AED 113,000, and 3-bedroom at AED 189,000. The Cove is designed for modern living, featuring contemporary amenities and a vibrant community atmosphere.
Creek Gate: For those seeking 1-bedroom apartments, Creek Gate is an option at AED 72,000. This development ensures convenience with supermarkets, retail centers, and dedicated play areas for children.
Creek Rise: Offering 1-bedroom units at AED 72,000 and 2-bedroom at AED 105,000, Creek Rise provides a seamless blend of comfort and style. Residents benefit from the proximity to gardens, recreational spaces, and essential amenities.
Buying Apartments in Creek Harbour
Investing in an apartment in Dubai Creek Harbour, especially in developments like Creek Gate, Harbour Views, The Cove, Creek Horizon, and Creekside 18, offers a lucrative opportunity for investors. With a range of options catering to various needs and budgets, these developments promise not only a comfortable living space but also a potentially rewarding investment. Here's a glimpse of the investment potential in these properties:
Harbour Views: Prices range from AED 1,229,000 for 1-bedroom, AED 2,027,000 for 2-bedroom, AED 3,209,000 for 3-bedroom, to AED 6,183,000 for 4-bedroom units. Investing here means securing a home with stunning views and excellent amenities.
Creekside 18: Prices start at AED 1,221,000 for 1-bedroom, AED 2,015,000 for 2-bedroom, AED 3,219,000 for 3-bedroom, to AED 6,758,000 for 4-bedroom units. This development offers a range of luxurious options with a focus on modern living.
Creek Horizon: With 1-bedroom units at AED 1,247,000, 2-bedroom at AED 2,070,000, 3-bedroom at AED 3,096,000, and 4-bedroom at AED 5,837,000, Creek Horizon promises a sophisticated lifestyle in the heart of the project.
Creek Gate: Prices range from AED 1,235,000 for 1-bedroom, AED 2,035,000 for 2-bedroom, AED 3,219,000 for 3-bedroom, to AED 5,889,000 for 4-bedroom units. This development offers a blend of convenience and elegance, making it a desirable investment option.
The Cove: Investments start at AED 1,307,000 for 1-bedroom, AED 2,244,000 for 2-bedroom, AED 3,290,000 for 3-bedroom, to AED 6,500,000 for 4-bedroom units. The Cove provides a serene living experience, coupled with modern amenities.
Additionally, off-plan projects like Creek Crescent, Grove, and Lotus at Creek Beach add to the array of investment opportunities in this vibrant neighborhood, making the project a promising destination for real estate investors seeking both luxury and profitability.
Creek Harbour Recreational Activities
Dubai Creek Harbour by Emaar redefines urban living with its extraordinary blend of recreational and retail amenities. Spanning 820,000 sq.m., the retail space boasts over 800 high-end stores, promising an unparalleled shopping experience. The scenic promenade adds to the allure, featuring the project's finest restaurants and cafes, offering gastronomic delights against the backdrop of the picturesque Ras Al Khor Wildlife Sanctuary. Whether indulging in a shopping spree amid luxury boutiques or savoring exquisite cuisines with a view, residents and visitors alike revel in a lifestyle where leisure, luxury, and natural beauty seamlessly converge.
Vide Creek Harbour: Luxury in Creek Harbour
Vida Creek Harbour stands as an epitome of contemporary luxury in the current development. Nestled amidst the North and South blocks of Dubai Creek Residence, this hotel redefines elegance, offering upscale accommodation, business amenities, and leisure facilities. Its prime location transforms it into a bustling entertainment hub within the development, with acclaimed restaurants like The Courtyard and Soulgreen offering captivating sunset views. Guests are pampered with an array of amenities, including a fitness center, infinity pool, viewing deck, co-working space, and rental bikes. With its fusion of modern comforts and scenic charm, Vida Creek Harbour promises a sophisticated retreat against the backdrop of Dubai's iconic skyline and the tranquil waterfront.
SumUp
Visiting the current development promises a wealth of memorable experiences for tourists and residents alike. The Central Plaza, situated at the heart of this vibrant development, emerges as a key destination offering a plethora of activities. Witnessing the Dubai Creek sunset stands out as a breathtaking experience, casting the surroundings in a mesmerizing glow.
Families, especially children, find delight in exploring the harbor area, filled with interactive exhibits and numerous play areas. The charm of Creek Island Central Park within the Harbour is irresistible, boasting lush green spaces, a skate park, and engaging children's play zones. Visitors can leisurely stroll, capturing moments against the backdrop of stunning artwork, making every step a picturesque memory. The project truly invites everyone to indulge in the magic of its central plaza and scenic surroundings, creating unforgettable moments for all who venture there.